Audi Field to Host the Second Annual "Truth and Service Classic" Football Game Featuring Howard University and Harvard University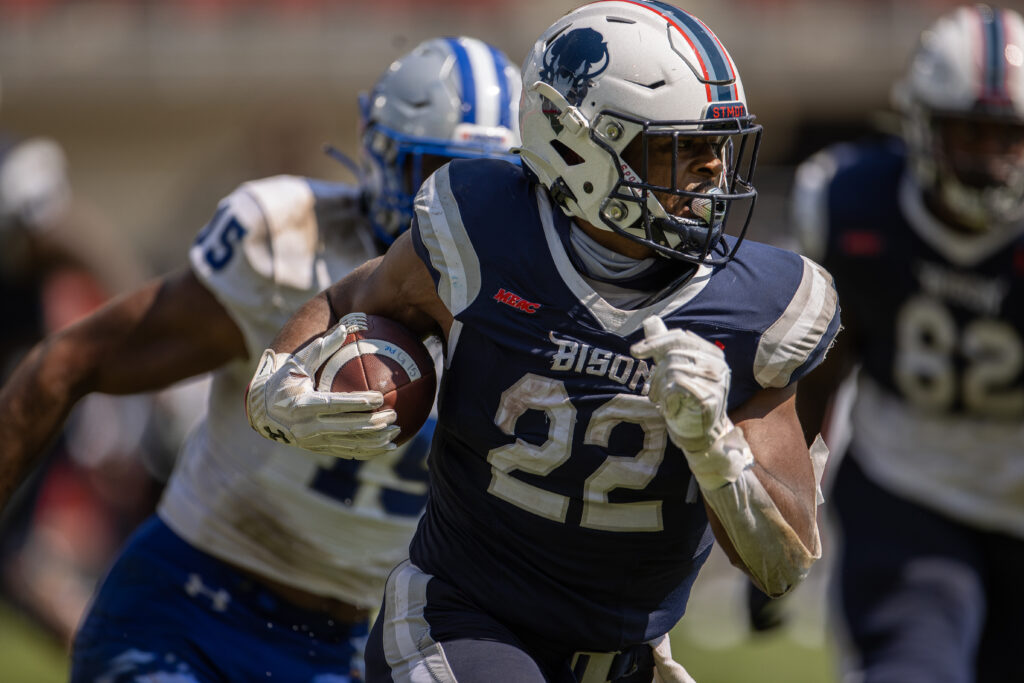 Game to be Held on October 15 at 4:00 PM ET; Weekend of Events and Service Project Also Scheduled
WASHINGTON (August 18, 2022) – Audi Field will host the second annual "Truth and Service Classic" college football game between home team Howard University and visitor Harvard University on October 15, 2022 at 4:00 PM ET. The game will be broadcast live on ESPN3 and televised later on ESPNU (time TBD).
In addition to the game, there will be a host of events taking place on the weekend. Additional information on each will be communicated in the near future.
Friday, October 14: Panel Discussion with Howard University students and alumni discussing the impact of HBCUs and the value of attending one.
Friday, October 14: Networking Happy Hour hosted at Audi Field inside the EagleBank Club.
Saturday, October 15: Service Project at Langston Golf Course led by students and alumni from Howard University and Harvard University in partnership with the Washington, D.C. Special Olympics Chapter.
Sunday, October 16: Gospel Brunch hosted at Audi Field inside the EagleBank Club.
"We are extremely proud of the relationship we have formed with Howard University and the opportunity to host the Truth and Service Classic once again at Audi Field," said Danita Johnson, President of Business Operations of D.C. United. "We look forward to the game, but even beyond that we are eager to once again service our community and program a weekend full of celebration and education alongside one of our country's great historic Black colleges."
The partnership between Audi Field and Howard University began last year, when the Bison played host to longtime rivals Hampton University on September 18, 2021 at the 20,000-seat venue in downtown Washington, D.C., the home of Major League Soccer club D.C. United.
"We're thrilled for our football team to play in the Truth and Service Classic at Audi Field again," said Howard Director of Athletics Kery Davis. "Last year's game brought so much excitement and we're looking forward to hosting Harvard in our own backyard this year. We would like to thank D.C. United and Audi Field for this incredible partnership and opportunity for our student-athletes."
The Howard Bison play in the Mid-Eastern Athletic Conference (MEAC) and have been a football program for over 125 years. Over the course of the program's history, they have won five Black College National Championships and three conference championships. The Bison begin their 2022 college football season in the annual MEAC/SWAC Challenge, facing Alabama State at Center Parc Stadium in Atlanta. Kickoff is slated for 7:00 PM ET, and will air live on ESPN.
"Washington, D.C. will showcase its tradition as a premier destination for sports and entertainment at Audi Field with the match-up between two prestigious academic and sports institutions, Howard versus Harvard," said Ralph Morton, Events DC's Senior Vice President and Managing Director of the Sports and Entertainment Division. "We welcome the alumni, fans and student athletes to our city, and know they will enjoy all it has to offer."
To register your interest in attending the game or any of the additional weekend activities you can visit www.truthandserviceclassic.com. All those who register will be included in an exclusive ticket pre-sale, which begins on September 7, 2022 prior to tickets becoming available for the general public on September 8, 2022.
About Audi Field
D.C. United have called the District home for the past 24 seasons and continued that tradition when they moved into their new state-of-the-art and soccer-specific stadium, Audi Field, in Buzzard Point, Southwest D.C., in July 2018.
The iconic 20,000-seat LEED certified new home of D.C. United is located in the fastest growing area in downtown D.C. An entertainment and event destination 365-days, Audi Field hosts over 100 events year-round. Complete with a brand new FanDuel sportsbook, Audi Field houses corporate outings, a culinary and music festival, Unite the District Fest, and world class international sporting events from D.C. United and the Washington Spirit, to Premier League Lacrosse and College Football, and many more.
For more information, please visit www.audifielddc.com and find us on Facebook, Twitter, and Instagram at @AudiField.
About Howard University
Founded in 1867, Howard University is a private, research university that is comprised of 13 schools and colleges. Students pursue more than 140 programs of study leading to undergraduate, graduate and professional degrees. The University operates with a commitment to Excellence in Truth and Service and has produced one Schwarzman Scholar, three Marshall Scholars, four Rhodes Scholars, 12 Truman Scholars, 25 Pickering Fellows and more than 165 Fulbright recipients. Howard also produces more on-campus African-American Ph.D. recipients than any other university in the United States. For more information on Howard University, visit www.howard.edu.
About Events DC
Events DC, the official convention and sports authority for the District of Columbia, delivers premier event services and flexible venues across the nation's capital. Leveraging the power of a world-class destination and creating amazing attendee experiences, Events DC generates economic and community benefits through the attraction and promotion of business, athletic, entertainment and cultural activities. Events DC oversees the Walter E. Washington Convention Center, an anchor of the District's hospitality and tourism economy that hosts more than 1.7 million visitors and generates more than $400 million annually in total economic impact, and the historic Carnegie Library at Mt. Vernon Square. Events DC manages the RFK Stadium-Armory Campus (RFK Campus), including Robert F. Kennedy Memorial Stadium, Festival Grounds at RFK Campus, the non-military functions of the DC Armory and the Skate Park at RFK Stadium. Stay current on the 190-acre RFK Campus Redevelopment Project at www.RFKCampus.com. Events DC also built and serves as landlord for Nationals Park, the first LEED-certified major professional sports stadium in the United States. Events DC manages Gateway DC, R.I.S.E. Demonstration Center and the Entertainment and Sports Arena (www.ESAontheRise.com), all conveniently located in the Congress Heights neighborhood of Washington, DC.
Game to be Held on October 15 at 4:00 PM ET; Weekend of Events and Service Project Also Scheduled